Event Rentals at Hometown Equipment:
Photos are for reference only. Actual items may look different.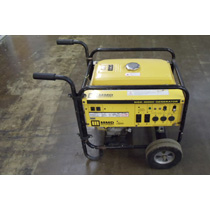 MMD NGK6000H Portable Generator
Engine: Honda GX340 11 HP
Engine RPM: 3600 RPM
Voltage : 120/240 Single-Phase
Frequency: 60 Hertz
Rated Amps: 21 Amps @ 240 Volts (Single Phase)
Tank Size: 4.5 Gallons Gasoline
Run Time (50% Load): 5.6 Hours
Weight: 176 Lbs. (79.83 kilograms)
Dimensions: 26L x 21.3W x 20.5H(66.04 x 54.10 x 52.07 cm)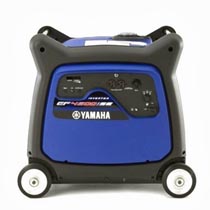 Yamaha EF4500iSE 4.5K Generator
Type: Brushless, Inverter
Maximum AC Output: 4500 watts
Rated AC Output: 4000 watts
Rated / Maximum AC Current: 33.3 / 37.5 amps @ 120V
Engine: OHV, air-cooled, single cylinder, 4-stroke
Displacement: 357cc
Dry Weight: 194 lb
Fuel Tank Capacity: 4.5 gal
Continuous Operation at 1/4 Rated Load: 15.2 hr
Noise Level (1/4 Load - Rated Load): 58-60 dBA
Detailed Specifications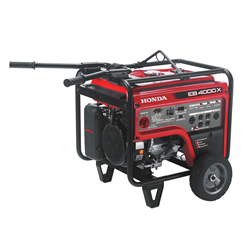 Honda EB4000X Portable Generator
4000 watts, 120/240V
Provides 5,000 watts for 10 secs to start larger equipment
Honda commercial iGX engine
Full GFCI protection
Long run time - up to 16 hrs
120/240V selector switch
2 wheel kit & lift hook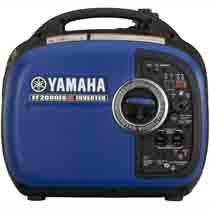 Yamaha EF2000si Portable Generator
2000 watts, 120V
Inverter Type
Four Stroke, Single Cylinder
1.1 Gal Fuel Capacity
Long run time - up to 10.5 hrs
13.3 / 16.7 amps @ 120V
44.1 lbs. Dry Weight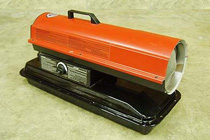 Reddy Heater R55 Portable Heater
55,000 BTU/hr
5gl. kerosene capacity tank
120v, 1ph with plug
Portable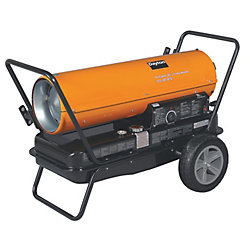 Dayton 3VE52 Torpedo Heater
BTU: 210,000
Fuel Capacity: 13.0 gal.
Fuel: K1 Kerosene or No. 1 Fuel Oil
120v, 60hz
Fuel Consumption: 1.6 gal. hr.
Heating Area: 5,000 sq. ft.
Run time per tank: 8 hrs.