Plumbing and Pipe Tools for Rent :
Photos are for reference only. Actual items may look different.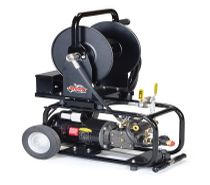 Shark SJPE 1500 Jetter Pipe Cleaner
Pump: Triplex
Flow: 1.7 GPM
Pressure: 1500 PSI
Motor: 1-1/2 hp, 13 amp w/GFCI
Weight: 105 lbs
Dimensions: 27" L x 17.5" W x 32" H
Operators Manual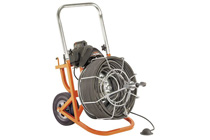 General Easy Rooter 3/4" x 100' Machine
¾" X 100 cable with heavy duty roller bearings
1/3 hp motor
Safety switch clutch protects cable and operator
Foot pedal leaves operator's hands free to control cable. Uses air pressure, no electrical contact between pedal and motor.
20 ft. 3-wire vinyl covered with molded plug w GFI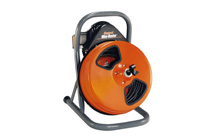 General Mini Rooter 1/2" x 50' Sewer Machine
½" X 50' Cable
1/3 HP motor with forward-off reverse switch
165 RPM load speed
Foot pedal leaves the operator's hands free
10-Foot 3 wire power cord with in-line GFI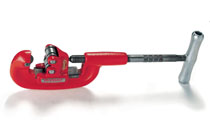 Ridgid #2-A Pipe Cutter
Fast, clean pipe cutting by hand or power.
Extra-long shank protects adjustment threads, while an extra-large handle is provided for quick, easy adjustment.
Ridgid Tristand Portable Pipe Vise
Optimized Base For More Working Area – Benders are located at the rear of the base and three tool hangers are provided.
Integrated Ground Lug – Provides a conductive surface to connect the weld ground.
Self Hooking for 4" Pipe – No need to use a second hand to engage the chain into the wear plate.
Leg Chain – Retains legs even when subjected to rugged use during operation and transport.
Rugged Tool Tray – Prolonged stability before requiring a leg adjustment.
Up to 12" diameter pipe