Skid Steer Loaders and Attachments for Rent:
Photos are for reference only. Actual items may look different.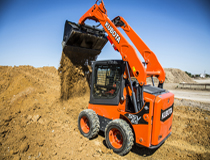 Kubota SSV65 Skid Steer
Width 66.5 in.
Width w/Bucket 69 in.
Weight 6,790 lbs.
Horsepower 64 hp
Rated Operating Capacity 1,950 lbs.
Tipping Load 3,900 lbs.
Height to Bucket Hinge Pin 121.5 in. (10 ft.)
Detailed Specification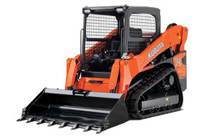 Kubota SVL75 Track Skid Steer
Engine: 75 HP Turbocharged
Operating Capacity (50% of tip): 3285 lbs.
Lift Capacity: 4,881 lbs.
Operating Weight: 9,039 lbs.
Bucket Width: 68" (smooth or tooth bucket)
Lift Height: 9' 9"
Detailed Specification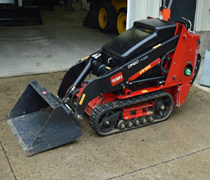 Toro Dingo TX-525 Mini Skid Steer
Cutting Depth: 36"
Cutting Width: 4"
Engine: Kubota Diesel 25 HP
Weight: 2001 lbs.
Width: 41"
Available with bucket, auger, trencher, fork and leveler attachments
Detailed Specification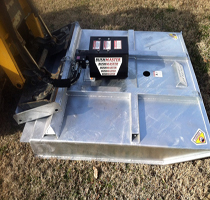 Bushmaster SL501 5' Brushcutter Attachment
Cutting width: 60"
Cutting Height: 0-3"
Cutting Capacity: 3"
Hydraulic Minimum: 19 gpm
Hydraulic Maximum: 24 gpm
Weight: 1,000 lbs.
Detailed Specifications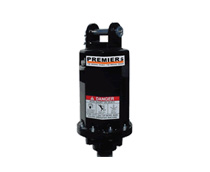 Premiere Auger Attachment
GPM – RPM
15..46
PSI - Torque
18..56 2500..2481
20..62 3000..2977
25..77 3500..3474
Max. Auger Diameter...36"
Min. Hydraulic GPM....15 gpm
Max. Hydraulic GPM....30 gpm
Max. Hydraulic PSI......3500 psi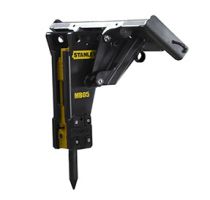 Stanley MB05 Skid Steer Breaker
Impact Energy Class: 550 ft-lb
Blows Per Minute: 650-1550
Weight: 810 lb.
Length: 53" Tool Diameter: 2.6"
Tool Working Length: 15"
Detailed Specification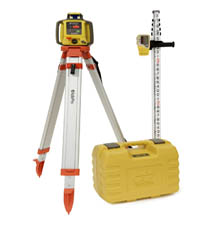 Topcon RL-H4C Laser Level
Great distance, high-accuracy and steep slopes — The RL-H4C combines the functionalities of three lasers in one.
High horizontal accuracy
Simple, intuitive manual slope capability
Automatic cross axis self-leveling
Long range (800m)
Extra-long battery life (100 hours)
Tough IP66 weatherproof rating
User Manual
Brochure